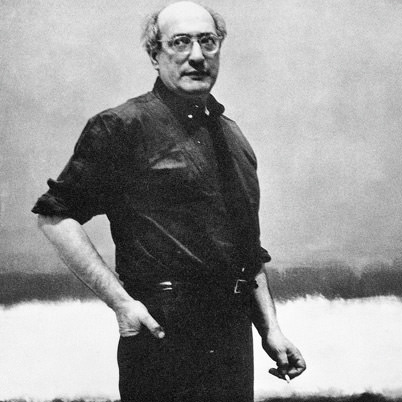 Although he was born in Latvia, Mark Rothko is one of the many well known American artists, for the abstract expressionist pieces that he created during the course of his career. Born in 1903, he and his family emigrated to the US when he was 10 years old. Some of the works that he is most well known for are images which featured large, and luminous color blocks. He is also most well known as one of the best New York School of Abstract painters, for the forms, figures, and great color creation that he delivered, in the many paintings he created.
Mark Rothko prints are currently some of the most sought after reproductions for art consumers all over the world, underlining how the reputation of this artist has spread across geographic and social boundaries. You will find opportunities to buy Rothko prints from approved retailers within our content.
In 1921, Mark Rothko attended Yale University, and his initial chosen course of study was either to get a degree in engineering, or to go for a law degree; but, prior to completing his education, he decided to abandon both of these routes and chose a different career path to follow.
After leaving Yale, Rothko moved to New York, as he put it "to bum about and starve a bit". Over the next few years he took odd jobs and studied for a short time at the Art Students League under Max Weber, one of the only professors there to have firsthand knowledge and enthusiasm for European modernism. His early paintings were oriented to social themes and contain expressionist as well as surrealist overtones. His subjects reflected Weber's influence as well as that of modern artists, such as Manet, Paul Cezanne, and Picasso.
Many of the pieces that Mark Rothko created early on in his career showed the potential that he would eventually have as an artist. The urban scenes and landscapes were often focal points for the works which he created, and figurative works were also some which he created. The rough application of paint, showcased an expressive side to the art that he would later create, which is the work which he is most known for during the course of his career as an artist.
During the mid 1930s, Mark Rothko joined a group in New York which was known as the Ten. This group was made up of a group of painters, doing modernist work, and the abstract work that was to follow, which was extremely popular during this period, and the following several decades in the US. A number of well known artists were a part of this group; in addition to Mark Rothko, other artists in the Ten included: Adolph Gottlieb, Louis Harris, Ben- Zion, and Joseph Salmon, to name a few.
During 1940s, Mark Rothko took an approach to art, in which he wanted to change what the American public had come to know as abstract art. He was searching for a new visual means to create, and a way to change the American landscape during the wartime periods, to showcase the different views that were taken during the war. During this period, many of the pieces that he created were symbolic of the war, and American life during this period. Increasing symbolic features included biomorphic forms which were used in his art, which were influenced by surrealist images and artists that were coming around during this time period as well.
In late 1940s and early 1950s, Mark Rothko created some of the pieces which he is most well known for in his career. Many of the art which he put out during this period showcased the large and dark brush strokes, the large blocks of color that were used in his paintings, and a variety of washes were also used in the art forms which he created during these years. Large and contemplative art was what he created using this style of stroke, and the colors that were chosen for the art forms which he created; many of these pieces were symbolic of American life during the period, others were symbolic of the changes in the art world, and the abstract work which he was turning his focus towards, as his career progressed.
In late 1950s, Mark Rothko took yet another approach to the works which he created; darker colors were often used in his art, and darker hues which encompassed richer textures, also became a focal point of the work which he was creating. During this time, the artist also spent quite some time focusing on a work that he was to create for a chapel that was located in Houston. Not only did this showcase the belief in spiritual art, but also in his belief of the church. It showcased the spiritual and emotional ties with art, and his beliefs.
Throughout his life, Mark Rothko suffered with bows of depression, and in 1970 he took his own life, as many other famous artists had done before him. But, even with a shorter career than many artists in the abstract realm, he did have quite a bit of success with the works which he had created during the course of his career. By the time he passed away, he had a sole exhibition showcase with some of his most famous pieces, which was set in the Museum of Modern Art in New York. In addition to the exhibit, and the fact that many of his works were on display for people to see, Mark Rothko was also viewed as one of the leading American artists, in the world of abstractionist work, and abstract painting.
Although his career did come to an end rather quickly, in addition to his work being placed on display in the US, in the Museum of Modern Art Gallery in New York, there were a number of other locations, in the US and around the world, where many of his pieces were put out for display as well. Some of the locations which the works he had created during his career were exhibited include: the National Gallery of Art in Washington DC, the Hamburg Kunsthalle in Hamburg, the Tate Modern in London, and the Solomon Guggenheim Museum, which is also located in New York.
Even though his career only lasted for a period of about forty years, it was one which changed the way in which art in the US and worldwide was seen. Mark Rothko made the transition into abstract art, and the new modern approaches which would remain in effect for several decades to follow, and he was one of the leading forces in the US in this field.
The people who weep before my pictures are having the same religious experience I had when I painted them. And if you, as you say, are moved only by their color relationships, then you miss the point!" – Mark Rothko