Black on Maroon, 1958 by Mark Rothko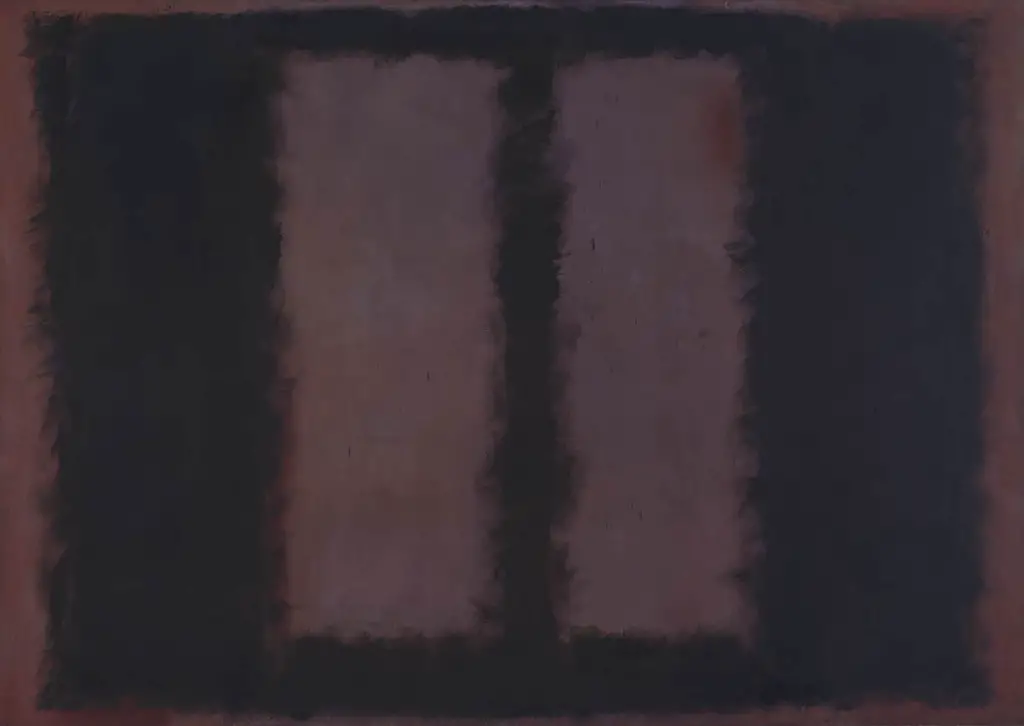 Black on Maroon comes from one of three series of canvases painted by Rothko in 1958-9 in response to a commission for murals for the small dining room of the Four Seasons Restaurant in
New York. The Four Seasons, one of the smartest restaurants in the city, is in the Seagram Building, a celebrated classic modern skyscraper on Park Avenue designed by Mies van der
Rohe and Philip Johnson. As he worked on the commission Rothko's conception of the scheme became more and more sombre and he abandoned the first series as being too light in mood. He
then adopted a palette of black on maroon and dark red on maroon, and compositional structures of open, rectangular, window-like forms, rather than his usual arrangement of uniform
rectangular patches, used for the first series. He later said 'After I had been at work for some time I realised that I was much influenced subconsciously by Michelangelo's walls in
the staircase room of the Medicean Library in Florence. He achieved just the kind of feeling I'm after …' The reference is to the motif of heavily pedimented blank stone windows set
in the white walls of the ante-room of the Laurentian Library, which together with other architectural effects created there by Michelangelo, create an atmosphere noted for its
oppressive, almost frightening, grandeur. In the end Rothko decided to withhold his murals from installation in the Four Seasons, his reported reason being that he did not wish his
pictures to be a background to the eating of the privileged. Clearly, in any case, he had created a series of paintings whose particularly solemn and meditative character ill-suited a
fashionable restaurant. It was these paintings, seen in Rothko's studio in 1960 by John and Dominique de Menu, that prompted these art lovers to commission Rothko to decorate a chapel
that they would build in Houston, Texas. The project, described by Rothko as the most important of his life, was completed just before his death in 1970.
In 1965, influenced by the idea that his pictures would be in the same building as Turner, Rothko suggested making a gift to the Tate Gallery. The works would be from the Four Seasons
series and would be chosen by the artist to form a coherent group, to be shown in a space on their own. The gift was finalised in 1969 and the paintings arrived in 1970. On the day
of their arrival, as the huge crates were being unpacked to reveal their contents, a cable was received from New York announcing that Rothko had been found dead in his studio.
©This artwork may be protected by copyright. It's posted here in accordance with fair use principles